Goldie Jeanne Hawn (born November 21, 1945) is an Academy Award-winning American actress. She is perhaps best known for starring in a series of successful film comedies during the 1970s, 1980s and 1990s. Her daughter is Kate Hudson who is also a well-known, Oscar-nominated actress.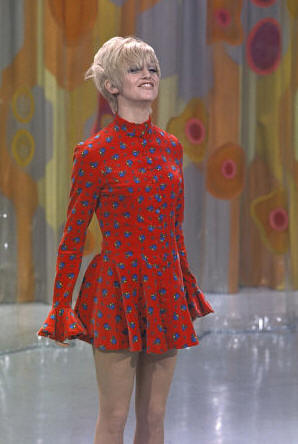 Hawn was born in a Jewish neighborhood in Washington, D.C. to Edward Rutledge Hawn (a band musician who played at major events in Washington) and Laura Steinhoff (a housewife); she has a sister, Patricia, and had a brother, Edward, who died before she was born. Her father, a descendant of Edward Rutledge (a signer of the Declaration of Independence), was a Presbyterian. Her mother was Jewish, the daughter of Max Steinhoff and Fanny Weiss, immigrants from Hungary; Hawn was raised in the Jewish religion, although the family did celebrate Christmas.

Hawn began taking ballet and tap dance lessons at the age of three, and danced in the chorus of the Ballet Russe de Monte Carlo production of The Nutcracker in 1955. She made her stage debut in 1961, playing Juliet in a Virginia Stage Company production of Romeo and Juliet. By 1963, she ran and instructed a ballet school, having dropped out of American University, where she was majoring in "Drama".


In 1964, Hawn, who graduated from Montgomery Blair High School, made her professional dancing debut in a production of Can-Can at the Texas Pavilion of the New York World's Fair. She began working as a professional dancer a year later, and appeared as a go-go dancer in New York City.
Hawn began her acting career as a cast member of the short-lived situation comedy Good Morning World during the 1967-1968 television season, her role being that of the girlfriend of a radio disk-jockey, with a stereotypical "dumb blonde" personality. Her next role was as one of the regular cast members on the 1960s sketch comedy show, Laugh-In. Noted equally for her chipper attitude as for her bikini and painted body, she personified a 1960s "It" girl. On the show, she would often break out into high-pitched giggles in the middle of a joke, and deliver a polished performance a moment after. Hawn won an Oscar for Best Supporting Actress for her work in the 1969 film, Cactus Flower, which was her first film role and co-starred Walter Matthau and Ingrid Bergman.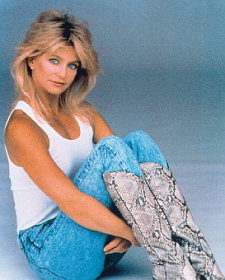 Hawn remained a popular figure in entertainment into the 1970s and 1980s, appearing in many films (generally comedies), and moving into film production as well. She gathered great respect as a comedy actress and was nominated for an Academy Award as a leading actress for her role in 1980's Private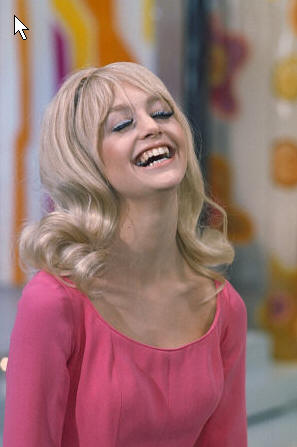 Benjamin, which was one of a series of successful comedies that she had starred in, also including Foul Play, Best Friends and Bird on a Wire. Her career slowed down a bit until 1992, when she appeared opposite Bruce Willis and Meryl Streep in the film Death Becomes Her. She also played an aging actress in the financially successful 1996 film, The First Wives Club, opposite Bette Midler and Diane Keaton, with whom she covered the Lesley Gore hit "You Don't Own Me" for the film's soundtrack. Hawn also performed a cover version of the Beatles' song, "A Hard Day's Night", on George Martin's 1998 album, In My Life.

Through the late 1990s and 2000s, Hawn has remained in the public eye (in part due to the success of her now adult daughter, actress Kate Hudson). Her last film appearance to date was in the 2002 film, The Banger Sisters.

In 2005, Hawn's autobiography, A Lotus Grows in the Mud, was published. Hawn claims that the book is not a Hollywood tell-all, but rather a memoir and record of what she has learned in her life so far.
Hawn was married to a Gus Trikonis from 1969 to 1976. She married Bill Hudson, of the Hudson Brothers, in 1976; the two divorced in 1980 and have two children, Oliver (born 1976) and Kate Hudson (born 1979), both of whom are now noted actors.


Hawn has been in a relationship with actor Kurt Russell since 1982, when the two met on the set of Swing Shift (a film in which Hawn's mother, Laura, has a cameo). The couple have a son together, Wyatt Russell, who lives in Brampton, Ontario, learning and playing hockey. Wyatt is currently a goalie with the Chicago Steel of the USHL. Hawn became a grandmother on 7 January 2004, when her daughter, Kate Hudson, gave birth to son Ryder Russell Robinson.

Hawn became involved in Eastern philosophy in 1972. She is a practicing Buddhist and has raised her children in both Buddhist and Jewish traditions. Hawn travels to India annually, and has visited Israel, stating that she felt an identification with its people.